On August 23, Shanghai Sansi Team and Truck Assembly Racing Team arrived at the fifth stop of the Silk Road, the central city and transportation hub of Northwest China, and the only provincial capital city in Lanzhou, Gansu, which was crossed by the Yellow River.

On August 24th, the delegates participated in the "Silk Road Economic Belt Construction" International Road Transport Seminar held at Longxin International Hotel in Langzhong County, Lanzhou. The meeting was delivered by the Deputy Director of the Gansu Provincial Department of Transportation, Zhao Yanlong, and the Vice President of the Science Research Institute of the Ministry of Transport, Zhao Zhizhong, and the Deputy Director of the Ministry of Transport, Wang Liang, made a concluding speech. Keynote speeches were made by Xinjiang, Gansu, Yunnan, Jilin, Inner Mongolia, Heilongjiang Road Transportation Administration, the Comprehensive Transportation Research Institute of the National Development and Reform Commission and representatives of relevant enterprises. Among them, Shanghai Sansi Wang Yinghua, deputy general manager made a keynote speech on "Application of LED Technology in Transportation and Management".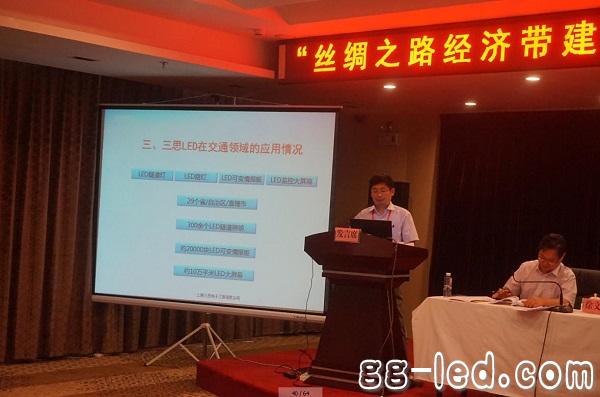 Deputy General Manager Wang Yinghua first introduced the basic knowledge of LEDs very concisely. Then it introduces in detail that Shanghai Sansi is a company with more than 20 years of research, development, technology and experience in LED applications. It contributes LED display and lighting with three elements of "green, low carbon and beautiful" for the construction of traffic roads in the Silk Road Economic Belt. Products, committed to creating a "low carbon, beautiful silk road."

Shanghai Sansi's products in the field of transportation include: road LED lighting, LED variable information board, LED traffic guidance screen, traffic monitoring center command room LED large screen. These products are more energy-efficient, longer-lasting, more reliable, and more stable than the usual products. Among them, Sansi's LED lighting products have unique light distribution to form perfect lighting effects, enabling on-demand lighting, intelligent lighting, and lowering. Lighting costs and other advantages.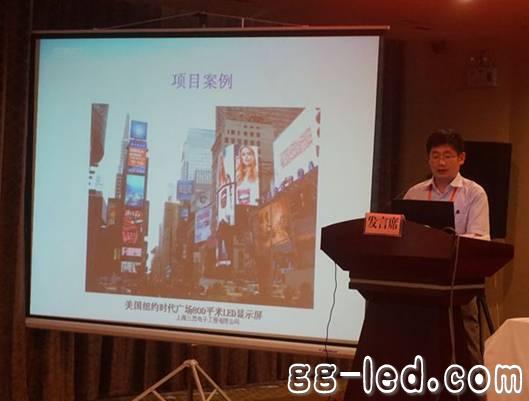 Sansi's newly developed small-pitch LED display can replace the traditional monitoring large screen, so that the refresh rate is high, the image is clear and delicate, and the picture can be divided and divided. It can be displayed on the whole screen or divided into multiple screens. In particular, the Tianshi monitoring platform developed by Sansi can remotely control the terminal display or lighting fixtures to realize remote monitoring of LED display cluster system or streetlight system across regions and provinces, greatly improving management efficiency and reducing labor costs.

Since 2007, Shanghai Sansi has covered 29 provinces, municipalities and autonomous regions (including 6 provinces, municipalities and autonomous regions of the Silk Road Economic Belt) with more than 300 LED tunnel lighting projects and about 20,000 LEDs. Variable information board, 100,000 square meters LED large screen, traffic LED display products market share of more than 60%, has always been in the leading position in the LED application industry.

Deputy General Manager Wang Yinghua also shared with the conference representatives the successful cases of the highways and tunnels in the Silk Road Economic Belt, such as Jiangsu Yonggu Expressway, Henan Lianhuo Expressway, Shaanxi Xiqiao Expressway, Shitian Expressway, Gansu. Wuwei Expressway and so on. Over the years, Shanghai Sansi has completed about 1,500 sets of LED information boards and about 180,000 road lighting fixtures in 6 provinces and cities along the Silk Road Economic Belt.

Mr. Wang also introduced Sansi in the world's commercial capital - two of the industry experts in New York Times Square, praised as "the highest resolution, excellent energy-saving effect" full-color LED advertising screen, shocking the world's 2010 World Expo opening and closing ceremonies Color LED stage screen and so on. Finally, Mr. Wang revealed that in the end of the China-Europe Silk Road Economic Belt Transportation Summit, there is a highway variable information board project in Aksu to Kashgar that is under construction and will soon be accessible. On the expressway in Kashgar, we can see the clear, stable and reliable LED variable information board of Shanghai Sansi.

(This article is based on Shanghai Sansi submission)

Three-Axis Micro DSLR Stabilizer is composed of pan axis, rolling axis and tilt-axis. With a gyro-stabilized gimbal system, it keeps stabilized or steerable horizon with automatic calibration to give you an unprecedented smooth shooting experience.


Wewow focusing on handheld stabilizer is a technology company which does R & D independently. With Wenpod series product released, the company achieved the industry's praise and quickly became the leader of the smart stabilizer industry.

Our service

1. Reply to you within 24 hours.

2. Already sample: within 1-2days.

3. Shipping date: within 24 hours once get the payment.

4. 12 months warranty.



5. After-sales service, solve within 3 working dates.





If you have any questions, please contact with us directly.

Wewow appreciates domestic and international business relationship!

Three-axis Micro DSLR Stabilizer

Three-Axis Micro DSLR Stabilizer,Popular Three-Axis Micro DSLR Stabilizer,Professional Three-Axis Micro DSLR Stabilizer,Handheld Three-Axis Micro DSLR Stabilizer

GUANGZHOU WEWOW ELECTRONIC CO., LTD. , https://www.stabilizers.pl