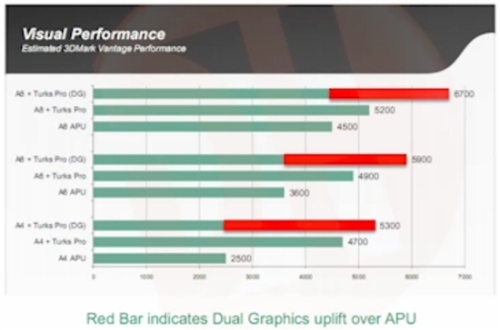 Inexposure expert Turkey's Donanim Haber came again. This time they released a video discussing the performance of the AMD Socket FM2 processor and developing the next-generation APU, codenamed "Trinity."

The Trinity APU uses the second generation of the core pile driver "Piledriver" in the bulldozer architecture, and the Radeon HD 7000 series GPU in the VLIW4 architecture. This comparison with Llano uses three tests:

- Visual Performance Test: 3DMark Vantage

- Overall Performance Test: PCMark Vantage

- Parallel Computing (GPGPU) Performance Test: CTP SP GFLOPS

As can be seen from the above, the Trinity A8, A6, and A4 have an average increase of about 32% in the 3DMark Vantage compared to the Llano, and 13.8% in the PCMark Vantage, while the GPGPU benefits from a significant increase of about 56.3% in the VLIW4 architecture. In addition, Trinity and its own Turks Pro core (Radeon HD 6670) graphics hybrid crossfire also has a good performance improvement rate.