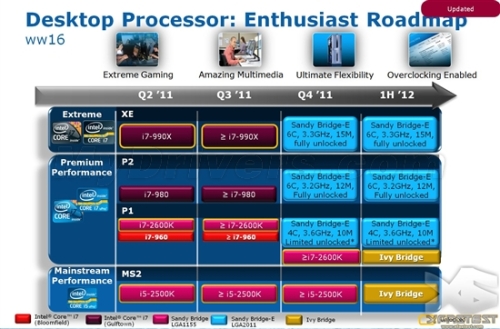 Taiwanese colleague XFastest leaked a road map today, initially revealing specifications of Intel Sandy Bridge-E high-end processor with fever level.

The Sandy Bridge-E processor is manufactured on a 32nm process. The LGA2011 package interface supports four channels of DDR3 memory, along with the new X79 single chipset. The new platform will target high-end players and enthusiast users and will replace the existing LGA1366 Core i7-900 series processor and X58+ICH10R chipset.

According to the roadmap, Sandy Bridge-E will launch three models in the fourth quarter of this year and continue into the first half of next year. The highest-end one-of-a-kind version is six cores, clocked at 3.3GHz, has a 15MB cache, and is fully unlocked. Allow free overclocking.

The second six-core clock frequency slightly reduced to 3.2GHz, the cache is reduced to 12MB, overclocking is still no limit.

The third is a quad-core processor, clocked at up to 3.6GHz, comparable to the upcoming quad-core Xeon E3-1290 in the server space, but the cache is further reduced to 10MB, and there is a certain limit to overclocking.

The roadmap also confirmed that the Core i7-2600K and Core i5-2500K will all be upgraded in the third quarter of this year, but will be replaced by the 22nm Ivy Bridge in the first half of next year.