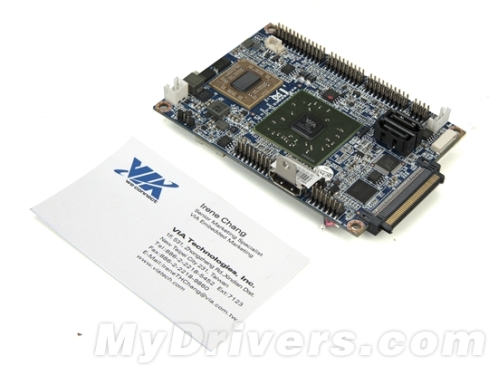 VIA VIA today announced the world's first Pico-ITX motherboard with dual-core processor "EPIA-P900". It is equipped with a VIA Eden X2 1.0GHz in a space slightly larger than a business card. 64-bit processors have become the industry's most compact commercial multi-core platform.

The EPIA-P900 motherboard is based on the VIA VX900H chipset and utilizes the hardware acceleration of the integrated graphics core VIA Chrome9 for smooth playback of 1080p Full HD video, as well as the hardware video encoding engine ChromotionHD 2.0. The motherboard provides one DDR3-1066/800 SO-DIMM memory slot (up to 4GB), two SATA 3Gbps interfaces, VIA VT6130 Gigabit Ethernet controller, VIA VT2021 audio encoder, and two PCI-E x1 expansions Slot, HDMI output interface, and more.

Because of the limited space available, many features only include expansion pins, including VGA/USB, Gigabit Ethernet, LPC/SMBus/GPIO, front panel and PS/2, five USB 2.0, front panel audio, LVDS, and two. UART and so on. If you install the P830-A expansion daughter card, you can also get VGA, two USB 2.0, RJ-45 and other interfaces. In addition, 802.11b/g/n Wi-Fi wireless modules can also be installed via USB pins.

VIA said that this small thing is suitable for a variety of compact embedded fields such as medical, logistics, flight management, vertical markets, digital signage, demonstration kiosks, etc. The operating system supports Windows 7, Windows Embedded CE, Windows Embedded Standard, Windows XP, Linux.