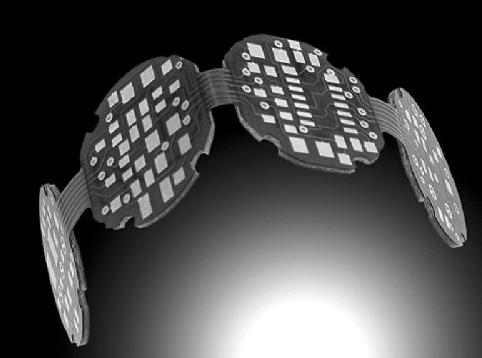 At present, the global FPC (flexible circuit board) output value has reached 8 billion US dollars, accounting for 16.1% of the entire PCB share. According to Prismark's forecast, by 2015, the global FPC's output value will reach 12.429 billion U.S. dollars, an average annual increase of 8.7%. Driven by the mobile phone market, domestic FPC companies also showed a trend of rapid development.

There is still a gap in domestic technology From the current overall situation, there is a big gap between the FPC industry in China's mainland, whether it is the total production volume, or the level of production technology and the technological content of its products. According to relevant data, in 2010, the global FPC industry was distributed by sales value: 55.83% in Japan, 14.08% in the United States, 13.05% in Korea, 10.61% in Taiwan, and 5.02% in China. Zhang Yalin, deputy general manager of Zhuhai Yatai Electronic Technology Co., Ltd. introduced that so far there are about 400 FPC companies in the Pearl River Delta region in China. Among them, 70% of the companies think that mobile phones are the mainstay, and nearly 1/3 are new in the past two years. Established companies, these companies are for the production of FPC board for mobile phones, such as camera board (BGA board), the main key board (including slide and flip cover), side key board, microphone board, antenna board, touch smart phone All kinds of soft boards, as well as module boards and backlight boards for various types of small liquid crystal displays (mostly for mobile phones), LED light strips for decoration, etc. The number of FPCs produced for other electronic products (such as the military industry, high-end medical products, digital imaging, etc.) is small, and companies that produce FPCs for world-class companies are basically owned by foreign capital or Taiwanese capital. Only a few mainland manufacturers have this honor. . "Although the number of manufacturers is growing rapidly, but its production scale is generally not large, the level of production technology is generally not high, coupled with the price is heavily constrained by downstream manufacturers, the irrational disorderly competition between the prices of each other, the domestic FPC manufacturers basically have no pricing power , seriously affecting the overall healthy development of the industry." Zhang Yalin said.

Hu Ke, chairman of Zhuhai Yuansheng Electronic Technology Co., Ltd., also stated that compared with its counterparts in Japan, South Korea, and Taiwan, China's mainland FPC industry has a large gap in terms of both technical capabilities and management levels. Its main performance is as follows: Product reliability, such as rigid-flex board, COF products, etc.; second, high-volume product control capabilities. He believes that the current domestic FPC market demand has been reduced due to the impact of the adjustment of the domestic mobile phone and other terminal industries. However, the popularity of smart phones and the development of the domestic flat panel display industry will drive the FPC market demand. And with the development of domestic electronic information industry and the international industrial transfer, such as Japan's FPC industrial production opportunities brought by Japan's earthquake to adjust outside of Japan, FPC still has a good market prospects.

Opportunities brought by consumer electronics, etc. From the end of 2007 to the present, due to the impact of the international financial crisis, various industries around the world have been affected to varying degrees, but fortunately the FPC industry in China has risen due to the sudden emergence of the domestic mobile phone industry, filling other industries. Impact caused by FPC. In the meantime, the FPC industry has achieved great development in mainland China. Looking ahead, the FPC market will be even wider.

According to Li Zhidong, deputy general manager of Guangzhou Xingsen Express Circuit Technology Co., Ltd., the opportunities for future FPC are mainly reflected in the following three points: First, the smartphones, tablet PCs, and digital cameras, led by consumer electronics products, are being driven. Research by RBC, a foreign research agency, found that more than 5.1 billion people in the world's population of 6.898 billion have mobile phones, but only 394 million of them are smartphones, which means that only 0.3% use smart phones or tablets, and a smartphone The number of FPCs used in tablets or tablets is 8-10 tablets. With the popularity of smart phones, market demand for FPC will increase exponentially.

Second, the display industry has driven FPC growth. The liquid crystal display industry is one of the most important industries in the world after the semiconductor industry. Driven by downstream applications such as notebook computers and LCD monitors, it is expected that TFTC panels in the liquid crystal display industry will still have very strong demand for FPC. Considering the amount of flexible board, the current usage of a liquid crystal display is about 2 to 4, which is mainly used for LCD panels and LCD modules, and the plasma display is as high as 20 or so.

Finally, in the future, the proportion of FPC used in high-end electronic products will increase, such as military products, aerospace products, medical products and automotive products.

"Therefore, domestic FPC companies should firmly grasp the above opportunities, increase product quality, technology reserves and increase, the establishment of corporate branding and other areas to increase investment in order to occupy a place in the new round of FPC competition." Zhang Yalin said.