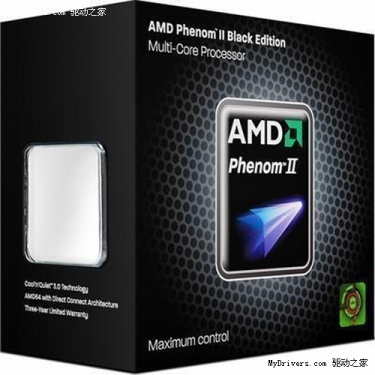 In addition to the top quad-core Phenom II X4 980 Black Edition 3.7GHz, AMD will also release a high-frequency, high-end dual-core "Phenom II X2 570 Black Edition" in April, clocked at 3.5GHz.

The Phenom II X2 570 BE development codename, Callisto, is also based on Deneb Phenom II X4 quad-core shielded from two cores, there is the potential for open nuclear, and is also a black box version, not locked multiplier.

In addition to the frequency increase to 3.5GHz (200MHz FSB and 17.5x multiplier), other specifications of this new product are consistent with the existing Phenom II X2 500 series models, including GlobalFoundries 45nm SOI manufacturing process, Socket AM3 interface, 512KB ×2 L2 cache, 6MB L3 cache, DDR2-1066/DDR3-1333 memory controller, thermal design power consumption remains unchanged at 80W.

According to the previous roadmap, this will be the end of the Phenom II X2 500 series and will also be AMD's fastest dual-core product ever, with a price of around $120.

Before the advent of the bulldozers, the AMD AM3 platform should also add a high-end quad-core Phenom II X4 960 3.3GHz/95W, a mainstream quad-core Athlon II X4 650 3.2GHz, an X4 655 3.3GHz, and an entry-level dual-core Athlon II X2 270 3.4GHz.